EOS CELEBRATES ITS 25TH ANNIVERSARY
In time for the company's 25th anniversary, the opening of the new Customer & Technology Center at the Krailling-based headquarters is another milestone in the history of EOS.
The building has a floor space of 17,000 m². Here the three main goals of EOS – innovation, quality and sustainability – become tangible for both customers and employees. With its bright façade made of expanded aluminium and a network-shaped structure, the building creates a 3D effect that is a perfect reflection of the EOS technology.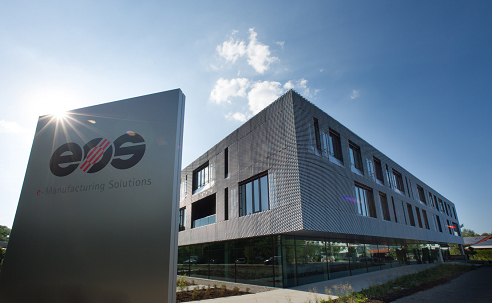 The foundation stone was laid in 2013 and the three-storey building was opened in the summer of 2014. In just two years, 31,000 m³ of earth for the building pit, the base and ground pipes were moved and 9,000 m³ concrete was used to for walls, floors, ceilings and pillars of the shell building.
The building has space for 300 employees. It reflects the company's strong growth as well as to the steady increase in the number of employees. The innovative technology area which also includes a customer center ("Transparent Factory") is equipped with conference and training rooms, workrooms and laboratories.
The building at the headquarters in Krailling also shows EOS' focus on sustainability and is based on a holistic energy concept: cooling and heating uses ground water and water-heat pump, use of the waste heat from the EOS Additive Manufacturing systems, use of local heating of the adjacent wood chip plant and an optimized thermal insulation. With this innovative approach, the requirements given by the German energy-saving directive are over-fulfilled by more than 30 percent.