INTRODUCTION OF M100 AT EOS HEADQUARTERS
EOS, the world leader in laser-sintering, will introduce M100 system to dental industry this September. Lazer-sinterleme sisteminde dünya lideri olan EOS Eylül 2015 yılında M100 sistemini dental sektör için tanıtacak. EOS has hosted an elite group of Turkish technicians at EOS Innovation Center to make a preview of the system.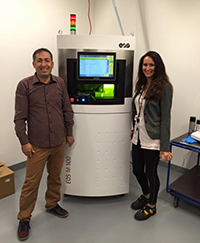 M100 system is offering a high productivity with its 200 Watt laser. Between 70-90 units can be produced in approx. 3.5 hours. The setup and the operation of the machine is extremely simplified and can use materials like CoCr, titanium, gold and stainless steel.