STRAUMANN INCREASES ITS OWNERSHIP POSITION IN DENTAL WINGS TO 55%
Dental Wings is proud to announce that Straumann has increased its ownership position in Dental Wings from 44% to 55%, with an option to increase to full ownership by 2020. Although Straumann is now the majority shareholder, the founders and executive management of Dental Wings will remain with the company and retain operational control. Financial details of the transaction were not disclosed. View the complete press release here.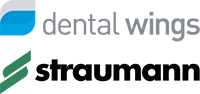 Headquartered in Basel, Switzerland, the Straumann Group (SIX: STMN) is a global leader in implant, restorative and regenerative dentistry. In collaboration with leading clinics, research institutes and universities, Straumann researches, develops and manufactures dental implants, instruments, prosthetics and tissue regeneration products for use in tooth replacement and restoration solutions or to prevent tooth loss. Including its Neodent business, the Group currently employs approximately 3500 people worldwide and its products and services are available in more than 70 countries through its broad network of distribution subsidiaries and partners.