NEW CLINICAL PRODUCTS FROM SMILE LINE
FLEXIPALETTE
In partnership with Styleitaliano, a study group of passionate clinicians and researchers, Smile Line introduces on the market an assortment of very unique and innovative contrastors intended for intra-oral photography : Flexipalette.
Flexipalette is made out of a bendable copper sheet 100% overmoulded with Plastimed, a medical grade silicone rubber, latex free, safe and hypoallergenic.
MY SHADE GUIDE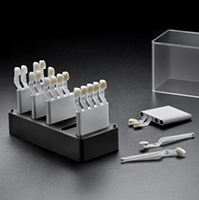 With My Shade Guide, the aim of Smile Line is to offer you the possibility to create your own personalized shade guides based on your daily reality.
As much the samples you'll produce can be basic (one powder), as much there is no limit to the possibilities of layering.
N.ERA PORCELAIN BRUSHES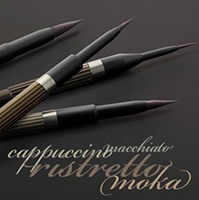 N.era brushes are manufactured out of a space-age filament, never seen yet in the dental industry. We are talking here of a polyamide like fiber which undergoes several special chemical treatments.
The properties (resilience, water absorbtion, stability at the tip) are equal or better than the highest quality of Kolinsky hair.